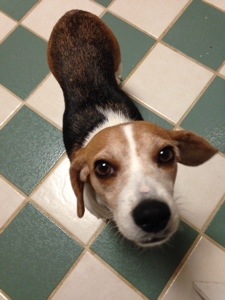 We got a dog for Christmas. Yep, I finally gave in. Those who are closer to us know that I have been holding out on this one, while Adena and the girls have wanted a dog for years.
It hasn't been a surprise that much of Millie's regular walks are handled by yours truly. The girls are not quite to the point of doing it on their own. And when given the opportunity of staying home or walking with us, they frequently prefer the former, especially while it's been cold outside.
To give Adena room to focus on homeschooling and starting the day well, I typically take Millie out for her morning jaunt around the block right before I head out to work. One of our recent strolls, I was struck with a revelation – Millie has no agenda and maybe it would be good for me to try turning off my agenda sometimes.
Too much on my mind
You see, when we head out, I have two or three things in my head.
1. Millie needs to take care of her, ahem, business.
2. We need to get around the block and back to the house.
3. What will I be moving onto next in my day? My first meeting, the pressing project, the unfinished work from yesterday, etc.
But Millie isn't thinking about any of those things. She's enjoying the sights and sounds of our neighborhood which somehow change every day for her, while they look exactly the same for me. She's taking her time and if she wants to stop, just to sniff a patch of grass, she will do just that. In fact, I'm even starting to see that sometimes she is just happy to be WITH ME!
Turning off
And then it occurred to me, I might need to follow Millie's example from time to time and try turning off my agenda. It isn't necessary to have an agenda every moment of the day. Or even every day of the week. (I've written a post on the importance of margin here; guess I needed a new object lesson on that!)
Make some time today for turning off your agenda. Go for a walk and see the sights and sounds of your neighborhood. And try to do it with fresh eyes. Millie and I may see you there!