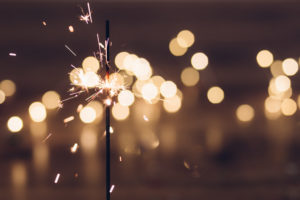 Saturday night, I stood in a room of family and friends gathered to celebrate the completion of the first forty decades of my life. Between toasts, small talk and reconnecting with friends over fond memories from college and days gone by, I enjoyed moment after moment of affirmation and felt the love of so many, including the love of our amazing Heavenly Father.
"A George Bailey moment"
"A George Bailey moment", one pastor and friend commented. It was a reference to the classic Christmas movie, "It's a Wonderful Life", whose main character questions whether his life has any meaning and purpose at all when he faces a significant trial. Thanks to an angel, he gets a perspective on what life would be like "if he had never been born", realizing that in small ways, over and over again, he had blessed many and had countless impact. "No man is a failure who has friends," the angel declares and George goes on to see how very many friends he had.
I am grateful.
I have so much to be grateful for as I look back over the last forty years. I'm grateful to my parents who raised me well, gave me a stable home and launched me into college with a broad base of experience, solid values and a belief that I was destined for greatness. My extended family of grandparents, aunts, uncles and so many cousins were part of the process in those formative years and I treasure their investment as well. I'm grateful to my friends and church family that became my new circle when I came to Carolina; so many friends have come close through serving together at King's Park, even when many are no longer in the area or call King's Park their home. I'm grateful to my beautiful daughters who brighten my life and bring me joy; they don't want me to go to work every morning and they are always excited to see me come home. And I'm thankful for my beautiful wife, who worked hard to pull all of the details together for this party, without input from me, because she wanted me to be surprised. Adena, you are my best friend and my perfect partner; you're also definitely my "favorite wife"! (Inside joke…)
I am blessed.
Several friends and family members drove some distance to be with us for the celebration. Some, who could not, sent videos of greeting or encouragement to make sure I knew their love was sincere even if they couldn't be present to deliver it. Many brought cards, gifts and affirming words; others just blessed me with their presence, a hug and their smile. But ALL of them blessed me, beyond my expectations. Some of you who are reading this were there or wish you could have been there. I'm grateful to ALL. Proverbs 17:17 says "a friend loves at all times, and a brother is born for a time of adversity." Thank you for being my friends; thank you for being my brothers and sisters. My tank is full!
I am excited.
Some refer to 40 as "halftime" or "over the hill"; signifying that the average 80 year lifespan is half completed or crossing the apex of your life and now heading downward. I can receive "halftime" but I'm not claiming "over the hill". I feel so much energy for the days that are ahead. The last few months, I have navigated some significant soul searching in both work and personal matters. It wasn't exactly related to turning 40, but I don't think it was a coincidence. In the final days before I officially crossed the milestone, I found myself in the midst of multiple significant and deep conversations. What do I want to see in the season ahead? What am I hoping and believing for? What are the things that hold me back from fully embracing God's purpose for my life? Several close friends, including Adena, have been sounding boards. Thank you all for being honest and not afraid to confront my wrong thinking, as well as committed to sincerely encourage me about the great things you see ahead. I'm more excited than ever about the calling of God on me as a husband, father, pastor, mentor, servant and friend.
What do I see?
A couple of years back, I heard about the "my one word" concept from a friend. This is the idea that you establish a set "word" that you are praying and building your year around. It could be a characteristic you want to develop or a single word that reflects some goal you want to achieve. In 2016, I felt like God gave me the word "bench". For that year, it had a few components: I felt God wanted me to help build a bench within my team (and for myself) so we weren't always going to the same players to carry the weight of everything we did. I also felt it was about personally allowing God to pull me up onto his toolbench to get some internal work done; through time with a counselor, a personal coach, plus pastors and friends, I am excited about the new grace I found to walk out my calling. The final component though was a new idea for me to think of. Adena and I intend to spend the rest of our lives walking together, raising our kids, serving people and enjoying life. And I imagine myself, four more decades from now, sitting on a park bench with my faithful bride, in classic "old man" style, looking back on the prior decades. The ones I have already lived and the ones that are still ahead. I decided then, officially at 38, but I think it's even more true now, that I want to live these next years with boldness, pursuing hard after God and after everything He has for us. I don't want to regret spending too much time at the office or on the smart phone to enjoy Lego time with the girls while they still enjoy that with me. I don't want to regret being too busy doing the work of ministry that I lose sight of relationship with God who called me to it in the first place and the people He called me to serve. I want to look back and relish the times I spent being with Him, being with them and enjoying His pleasure. If I can do that, I will be proud of who I was and what God did through me.
Halftime is pretty amazing!
Can't wait to share it with so many of my friends who aren't here yet.