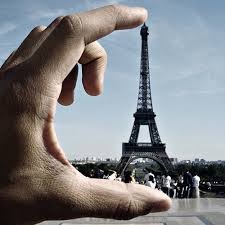 Happy New Year! There's something about a new year that lends itself to feelings of a fresh start. Dormant projects, unfinished from the past; unmet goals, missed due to lack of execution or insufficient plans; unfulfilled desires; these all seem to have the potential for new life as we enter a new year. What changes?
I think one thing that is different as a new year begins is our perspective: the way we look at our situation. A new year is a milestone and challenges that were large last year look less significant as we pass that new year mark. Last year, I had trouble, but "this year things will be different".
How can you re-align your perspective to match God's perspective on your situation-new year or otherwise? My devotional this morning took me to Matthew 6, which reminded me that being anxious about my situation does not help. If I seek God first and His kingdom, all of my other needs would be met; not through my own striving, but through His grace.
Take time as you start this year to get God's perspective on your business, ministry, relationships, and personal well-being. That should shape your resolutions and planning for the New Year!