As we wind up the Holiday season, I am reflecting on a brief family adventure we had a few nights before Christmas. We were driving around as a family looking at Christmas lights in the neighborhoods near our home, seeing the normal displays of reindeers, snowmen, Santa Claus's, and even Nativity scenes, when we happened upon one home that had a very different lighted display.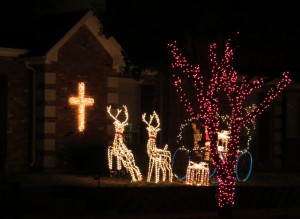 One family had placed, right in the middle of the other decorations, a lighted cross! I don't think I EVER saw a cross among Christmas decorations before. And I think most people don't connect the cross at all with their Christmas celebrations. For our society has chosen to separate the infant Christ from his  purpose and mission – to give up His life. It's easy to celebrate a newborn baby, and very few would take offense. But the Christ of Christmas is also the Christ of Easter, the one who loved us and gave Himself, first as a babe born in a manger, and later to die by crucifixion on a very different kind of tree.
The Advent reading plan I did through lifechurch.tv did a great job connecting these two and reminding me that He came for one reason – to change our world through His birth, His life, and His death and resurrection. Thank you, Jesus!